Tired of hummus? This tahini beet concoction is a perfect substitute.
I was grocery shopping recently and found myself at a loss. We were hosting friends and I needed a quick and easy appetizer, so was planning on chips and guacamole. I thought it would be interesting to offer one more kind of dip, so I scanned the options. There were sour cream-based options, and mayonnaise-based options, and about 20 flavors of hummus (which is no exaggeration…do people really like hummus that much?).
There was only one non-hummus option that contained no animal products. It was carrots and cashews and the package said there was some ginger in there, too. This sounded like exactly the kind of hippie food I get really excited about it. I paid, ran home, and tasted it.
Ptooey. It was disgusting. Like, basically inedible. I tried to doctor it, to no avail.
What to do then? Our friends were due in 30 minutes and all I had was plain old chips and guac. A great option—who doesn't love chips and guac?—but I was not satisfied.
Necessity, as they say, is the mother of invention. I imagined what might have made that carrot stuff edible and got to work. Let's see…I had some beets. I liked the idea of cashews in the dip for satiety and creaminess. Tahini always adds a nice richness, but can be a little dull. A little lemon would brighten that up!
I got to work, and this recipe was the glorious result. Where hummus is a bit grainy, this spread is smooth and creamy. Where hummus is a bit one note, this dip is a dynamic combination of several flavors: sweet, sour, and salty. Where hummus looks rather brown and blah, this spread is vibrant magenta—a feast for the eyes. Fresh lemon sets off the earthiness of tahini and sweetness of beets. Garlic adds pungency and aroma while boosting the nutritional profile (garlic is great for immunity!).
I've already used this spread three different ways: as a dip for chips and crudités, as a sandwich spread, and as a garnish for a vegan risotto dish (perhaps the most delicious—and surprising—of all). The recipe makes about two cups, giving you plenty to work with and try different ways. Use your imagination!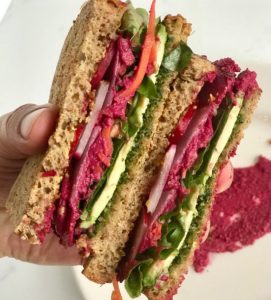 Print
Tahini beet spread
Yield 2 cups
Ingredients
3 medium beets, peeled, ends removed
1 tsp lemon zest
1 large lemon, juiced
1 clove garlic
½ cup tahini
½ cup cashews or cashew pieces, unsalted
1 tsp harissa powder (or 1 T prepared harissa)
½ tsp salt
Instructions
Add all of the ingredients to a high-speed blender or food processor.
Pulse several times to chop the beets.
Blend on low, gradually increasing the speed as the ingredients begin to merge and pull down evenly.
If the mixture is too thick, add a bit of water, 1 tablespoon at a time.
Store in an airtight container for up to seven days.
Notes
How to serve:
Spread on sandwiches
Dip vegetables or chips
Stir into cooked pasta
Add a dollop to garnish any dinner entree, such as a stuffed pepper or risotto.