Sesame somen salad. In the time it takes you to say it five times fast, dinner is ready!
What are your biggest challenges when it comes to feeding your kids? Chances are good that one of them is time. How do you work all day, commute, and take care of the various errands and tasks that come with adulting and still have the time (not to mention energy) to come home and cook the kind of food you want to feed your family? It's HARD.
Another challenge you likely face—at least if your kids are typical—is the War of the Vegetables. You know what I'm talking about. You put a small portion of steamed broccoli on the corner of your son's plate and find moments later he is using it as ammunition to take out the LEGO guys he lined up at the edge of the table. (Speaking from experience—turns out dogs don't like broccoli, either.)
I read once that there is something about kids' taste buds (or was it brains?) that makes them less likely to jibe with the compounds in fibrous green foods, i.e. vegetables. The good news is that they grow out of it. The bad news is that in the meantime they still need the fiber, minerals, and phytonutrients buried within those lovely chlorophylled forms.
And that, my friends, is why this sesame somen salad is going to be a new weekly go-to. Not only is it fast, but you can sneak a bunch of veggies in and the kids will be so eager to scarf the noodles they won't even notice the colorful crunchy stuff.
Somen noodles are basically the width of a human hair, so they cook in two minutes flat. While you're boiling the water, you prep the veggies. Nothing fancy…just wash and chop some pea pods and cucumbers. Grate a couple carrots. Add something else if you prefer (whatever your kids will eat!).
While the noodles boil you whip up the dressing…just a few ingredients you likely already have in your cupboard.
And just like that: dinner is served!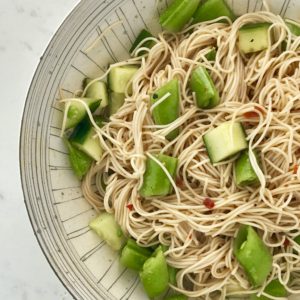 Print
Sesame somen salad
Yield 4-6 servings
Ingredients
For the salad:
6 oz. somen noodles
2 carrots, peeled and grated
½ English cucumber, seeded
2 cups fresh snow or sugar snap peas (or substitute broccoli, zucchini, bok choy—whatever your kids like best!)
For the sauce:
¼ cup soy sauce
3 T sesame oil
2 T peanut butter
1 T agave
1 T chili oil (optional)
½ tsp chili flakes (optional)
Instructions
Fill a medium saucepan three quarters full and set it over high heat.
Wash and prep the vegetables: peel and grate the carrots. Deseed and slice the cucumber. Chop the pea pods into ½" pieces.
When the water comes to a rapid boil, add all of the noodles and gently stir to separate them.
Turn the heat to medium and set a timer for two minutes.
In a large glass measuring cup (one or two cups is ideal), add the soy sauce, sesame oil, peanut butter, agave, chili oil, and chili flakes.
Whisk the wet ingredients together.*
When the timer goes off, test a noodle.
When noodles are soft—this should take no more than two or three minutes—drain the hot water. Rinse them in the strainer with cold water, taking care to make sure all of the noodles get zapped with the cold water (this prevents them from overcooking).
Pour the noodles into a serving bowl.
Add the vegetables and dressing, using kitchen tongs to distribute them evenly.
Notes
*My favorite technique to whisk ingredients quickly is to hold the whisk handle between my palms and rub them together quickly. Once you know how to do this you'll never not use this technique again—it's so fast and so effective!
Worried about protein? You can easily punch up the protein in this dish by adding fresh or marinated tofu or tempeh.
This dish is perfect to take for lunch—or pack in a lunch box!
Versatility is one of the best things about this recipe. Don't be afraid to try different vegetables, herbs, or garnishes to change it up. Some options include broccoli, zucchini, bok choy, cilantro, Thai basil, mint, peanuts, fried onions, and sesame seeds.