It's the little things that make the biggest difference: a bow on a package. A cherry on a sundae. Seasoned pepitas on a salad.
Seasoned pepitas sounds kind of fancy…until you realize they're just simple pumpkin seeds dressed up and toasted with all-purpose seasoning. I mean, I'm not trying to diminish this little recipe—they're really delicious. I'm just saying you shouldn't be intimidated by a fancy name like seasoned pepitas. Don't let it scare you.
Actually, it's better they sound a little fancy. Because what they will do for your salad, or a dish like the smokey yam and kale bowl, is extraordinary. Like wearing bright red lipstick to the movies, or your favorite sparkly earrings with an otherwise ordinary outfit. They're the little extra something that puts a dish right over the top.
These seasoned pepitas are equally delicious on their own. You may not know this, but pumpkin seeds are one of the most nutrient dense foods out there. High in all kinds of minerals, plus fat and fiber…you get a ton of bang for your buck.
Added nutrition + added flavor = so fancy!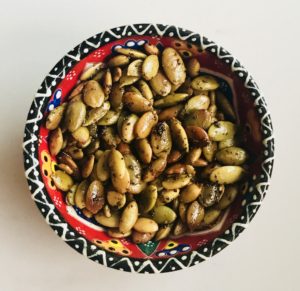 Print
Seasoned pepitas
Yield 1/2 cup
Ingredients
½ cup raw hulled pumpkin seeds
1 T grapeseed oil (or other high heat oil)
1 tsp all-purpose seasoning
¼ tsp salt
Instructions
In a medium sauté pan over low-medium heat, add the pumpkin seeds and oil.
Stir every couple of minutes.
When the pumpkin seeds begin to smell toasty (6-8 minutes), add the all-purpose seasoning and salt.
The seeds are ready when they're golden brown and smell delicious.
Store in a small airtight container in the refrigerator.
Notes
These are a perfect garnish for salads or a grain bowl, especially the smokey yam and kale bowl.
Or, try them on their own! Pumpkin seeds are super robust, nutritionally-speaking, and their high fat content makes them a satisfying snack.