Edamame hummus is the new avocado. There, I said it. Now, hear me out…
Both rich, creamy, and green, edamame hummus and mashed avocado don't taste all that different. However, edamame hummus has a few distinct advantages:
it's cheaper
one batch gives you considerably more volume to work with, and
it's far more nutritious.
Edamame has lots of healthy fat, like avocado, but it's also very high in protein. Hear that, protein-worried parents? Your kids will gobble this up and beg for more. In addition to fat and protein, edamame boasts omega-3s, a high fiber content and variety of micronutrients, including folate and manganese. And did I mention it's delicious?
Alright…I've made my case. Try it and see if you agree!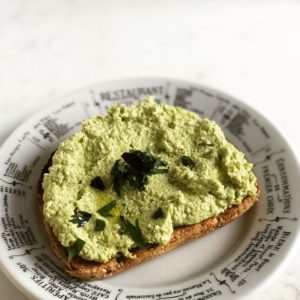 Print
Edamame hummus
Yield 1 1/2 cups
Ingredients
10 oz. frozen edamame, shelled
¼ cup olive oil
¼ cup freshly squeezed lemon juice
2 T liquid aminos
½ tsp salt
1 clove garlic
1-2 T water
Instructions
Add the edamame to boiling water and cook five minutes.
Drain and rinse with cold water.
In a large food processor, combine the olive oil, lemon juice, liquid aminos, salt, and garlic.
Blend thoroughly until the hummus has a smooth, creamy texture, adding more water— a tablespoon at a time—as needed.
Notes
There is no end to the number of ways you can use this hummus: as a dip for vegetables, condiment for tacos, sandwich topping, or simply spread on toast and topped with herbs and lemon zest.
You can easily vary this recipe by adding a bit of sesame oil, fresh herbs, spices, vegan Worcestershire, etc.—whatever your heart desires.