Does the world need another chili recipe? Maybe not. But my hope with this site is to create a one stop shop for reliable, healthful recipes that don't require a ton of time in the kitchen. And no food blog could be considered complete without a chili recipe, in my humble opinion.
Because how can you not love chili? It can be so many things. You can make it with beans or no beans. Meat or no meat. Red broth or white. No matter your personal tastes, there's a chili for you.
And your favorite recipe might very well might be this one. It's well balanced, with plenty of sweetness and spice alike. It's high in fiber, which means it filling in spite of its naturally low fat content. The rich variety of spices adds a complexity that reminds me of mole, making this a perfectly pleasing dish without any meat at all.
Another thing I love about this recipe is that it serves a lot of people. It's great for a casual dinner party or tailgate. You can serve it over a slab of cornbread, with a side of corn chips, or with bread for dipping. Or, make it a chili bar and everyone can customize their own bowl. Consider toppings like chopped scallions, raw onion, avocado or guacamole, hot sauce, cashew sour cream, chopped tomatoes, olives, and/or cilantro.
Whether it's a game day, a snow day, or just a good day, this chili will make it that much better.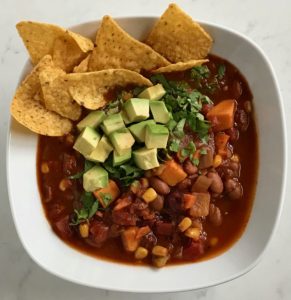 Print
Sweet potato chili
Yield 8 servings
Ingredients
1 T grapeseed oil
1 onion, chopped
1 large sweet potato (or yam), peeled and cut into ½" cubes
10 oz. bag frozen corn
1 carrot, chopped
1 small red pepper, charred, rinsed, and chopped
14 oz can pinto beans
14 oz can kidney beans
28 oz can fire roasted diced tomatoes with chilis
14 oz can tomato puree
4 oz can diced green chilis (mild or medium)
2 cloves garlic
1 tsp salt
Spice blend (makes 4 tablespoons):
1 T cocoa powder (unsweetened)
2 tsp chipotle powder
2 tsp ancho chili powder
1 ½ tsp cumin
1 tsp oregano
½ tsp allspice
½ tsp coriander
½ tsp cinnamon
½ tsp smoked paprika
¼ tsp cayenne
¼ tsp black pepper
Instructions
Mix the spice blend and set aside.
Prep the vegetables as described above.
In a large soup pot or Dutch oven, heat the oil over medium heat and add the onions.
Cook the onions five minutes. While those cook, open the cans and drain the beans.
When the onions are fragrant and beginning to look transparent, add the sweet potatoes, corn, carrots, peppers, garlic, and salt.
Sprinkle all of the spice blend (4 T) over the vegetables and stir well to combine. Allow the mixture to cook another five minutes.
Add all of the remaining ingredients: beans, tomatoes, tomato puree, chilis, broth, and water.
Stir well and cover.
After an hour or so, taste the broth and adjust the seasonings as desired. Depending on what type of broth you used, you might need more salt. If you like spice, add a bit more cayenne.
For best results, simmer the chili for at least two hours to allow the flavors to develop, or refrigerate overnight and reheat before serving.
Notes
Customize this soup with whatever type of beans you like best. Use one variety or a couple.
The seasoning mix is great to keep on hand for tacos, fajitas, or tortilla soup. Make it ahead of time and store in a sealed container.