Grain bowls — like this smoky yam and kale bowl — are like smoothies. You can throw a ton of stuff in there and know with near certainty: it's going to be good.
If you've been paying attention to this site, you know I have a thing for kale. And quinoa. (And sweet potatoes.)
Actually, I have another recipe that is essentially the exact same ingredients as this smoky yam and kale bowl. What can I say? I'm a sucker for easy, delicious, nutrient-dense meals you can make in under an hour. Especially if it means leftovers, which I love.
(Aside: I met someone recently who hates leftovers. WHAT?! His revelation turned into a ten minute debate. What is better than having a ready made—healthy!—meal waiting in the refrigerator for lunch or dinner? Plus many recipes actually benefit from a day of sitting around—strange though it sounds—as the flavors marry and merge. I maintain my position. We agree to disagree.)
Anyway, if you tried the Autumn yam and kale stew, don't worry that this recipe will bore you with its similarity. The varied seasonings in this smoky yam and kale bowl create an entirely different flavor profile. And texturally, the two recipes are worlds apart. Perhaps with a contrast of the two I will convince you of just how versatile these ingredients are.
This recipe may look overwhelming since there are so many steps, but that's only because you're essentially creating three different dishes to combine. Because the yams take awhile to cook, you'll have plenty of time to prep the quinoa and kale, plus the dressing, which means you can create this whole meal in about 45 minutes.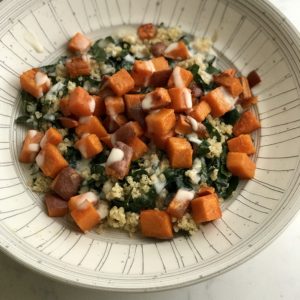 Print
Smoky yam and kale bowl
Yield 4 servings
Ingredients
Yams:
2 medium-large garnet yams
3 T olive oil
15 drops liquid smoke
1 clove or garlic, minced
1 tsp salt
Kale and quinoa:
1 bunch lacinato kale
One lemon, juiced
1 T olive oil
1 clove garlic, minced
1 tsp salt
½ tsp smoked paprika
¼ tsp black pepper, finely ground
1 cup quinoa
Dressing:
One lemon, juiced
3 T vegan mayonnaise (Just Mayo is my favorite)
1 ½ T tahini
1 tsp agave (or more, to taste)
Instructions
For the roasted yams:
Preheat the oven to 425°.
Scrub and dry the yams.
Cut each yam into ½" cubes (slice lengthwise, rotate 90° and slice lengthwise again, then slice crosswise—precision is not that important, you just want them to cook evenly).
In a large mixing bowl, toss the cubed yams with the olive oil, liquid smoke, garlic, and salt.
Spread them in one layer over a large baking sheet and bake for 35 minutes, turning once.
While those bake, prepare the kale and quinoa:
Add one cup of quinoa to 1½ cups of water in a medium saucepan.
Bring to a boil.
Cover and simmer 15 minutes.
After 15 minutes, fluff with a fork. Leave covered.
Wash the kale leaves and strip them from their stems.
Stack the kale leaves and roll them up, lengthwise.
Slice the roll of kale crosswise into very thin ribbons, about ¼" wide.
Throw the kale into the same mixing bowl you used for the sweet potatoes…it doesn't matter if there is residual oil (this saves you a dish to wash).
In a large glass measuring cup, whisk the lemon juice, olive oil, garlic, paprika, salt, and pepper.
Pour the mixture over the kale.
With your hands, gently stir and massage the kale in the dressing to soften the leaves and cover them evenly.
When the quinoa is ready, add it to the kale, stirring well.
Your yams are likely almost done roasting (don't forget to turn them once). Now make the dressing:
In the same glass measuring cup you used previously (I'm all about saving dishes!), combine the lemon juice, mayonnaise, tahini, and agave.
Whisk together well by holding the whisk handle between your palms and vigorously rubbing your hands together—this will produce a rapid whisking action that just might blow your mind. Really. It's very effective.
Now that the yams are ready…
Assemble your bowls: first the kale and quinoa, then the yams, then a generous crown of the lemon-tahini dressing swirled over the top.
For an extra treat, garnish with these Seasoned pepitas.