When you think of corn soup, you likely think of some kind of corn chowder with ham or bacon. Not here—and this corn soup is so much better without it!
This soup is a study of contrasts. The natural sweetness of corn is a beautiful contradiction to the underlying notes of tangy kaffir lime. Served cold, it's refreshing and light, but the inclusion of charred jalapeño adds enough heat to make you sweat—just a little. Finally, this soup is novel enough to serve for a special occasion, but so simple to make that you're likely to make it a new summer staple.
What more could you want from one simple bowl? Abounding in flavor, this corn soup is silky smooth and downright sexy. It's a lovely lunch all on it's own, but for a heartier meal, consider serving it with our French lentil salad.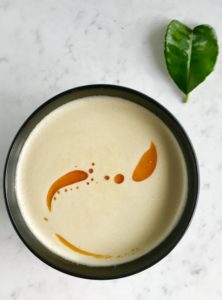 Print
Spicy corn and coconut soup
Yield 6 cups
Ingredients
2 T coconut oil
½ onion, chopped
4 ears of corn, kernels removed
1 charred jalapeno pepper, diced
4 whole kaffir lime leaves, stem removed
4 cups vegetable broth
1 can coconut milk
1 ½ tsp salt
Instructions
Chop the onion and slice the corn from the cobs.
Char the jalapeno pepper over a gas range, or broil it, rotating often to achieve an even char.
Rinse the charred skin off the jalapeno pepper. Remove the stem and seeds and dice the pepper.
Remove the stems from the kaffir lime leaves (these can make the soup stock bitter).
In a large soup pan, heat the oil over medium heat and add the onion. Sauté for 2 minutes.
Add the corn, jalapeño, and lime leaves plus 1 tsp. of salt.
Combine well, cover, and cook for 12-15 minutes, stirring often. If the vegetables begin to stick, turn the heat down slightly and/or add a few tablespoons of water.
Remove the lime leaves.
Transfer the mixture into a blender. Add the broth, coconut milk, and remaining salt. Blend well.
Chill and serve cold.
Notes
For a stronger lime flavor, consider blending a fresh leaf—stem removed—into the soup.
If you don't like much spice, use a poblano pepper in place of the jalapeño. For more spice, leave some of the seeds in the pepper. 
It is *always* a good idea to wear vinyl gloves when handling peppers or other spicy foods!