This french lentil salad is light yet toothsome. It makes a nutritionally-balanced supper on a hot summer night, or a satisfying lunch that packs well whether you're at the office or out for a picnic. Mint is a subtle addition that lends freshness and connotes sweetness, while onion and cauliflower anchor the dish with a well-rounded earthiness.
This salad reminds me of the time I spent in Paris during the summer of 2007. Inspired by the movie The Holiday, I embarked on a home exchange that was clearly a better deal for me than the couple I traded with: they got to stay in my dated one bedroom apartment with college furniture and noisy neighbors while I got to live for a month in their historic pied-à-terre in the 1st arrondissement.
My wonderful hosts showed me extraordinary hospitality and refinement when they greeted me with a casual homemade lunch of grilled vegetable quiche, tarte au citron, and the finest rosé I have ever tasted. Ever since then, whenever I cook anything remotely French, I wonder if it would meet their exacting standards for what it is to dine well. I like to think this french lentil salad would make the cut.
Consider serving this with our Spicy corn and coconut soup for a meal that is that much more memorable.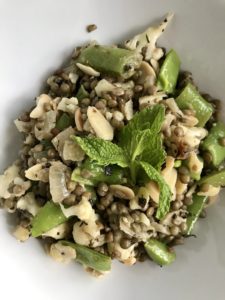 Print
French lentil salad
Yield 4-6 serving
Ingredients
2 T grapeseed oil
1 ½ cup French lentils
½ lb. sugar snap peas
½ onion, chopped
½ head of cauliflower
¼ cup sliced almonds, toasted
1 oz. finely chopped mint
1 tsp. Herbes de Provence or French thyme
2 tsp. sea salt
1 T apple cider vinegar
2 T olive oil
Instructions
Rinse the lentils.
Add the lentils to 5-6 cups of water in a saucepan. Cover and bring to a boil.
Once the lentils reach boiling, turn the heat down to low and simmer for 20-25 minutes, or until they're soft but still holding their shape well.
While the lentils cook, heat the grapeseed oil in a large skillet over medium low heat and add the chopped onion and cauliflower along with the Herbes de Provence and half the salt.
Cook the vegetables until they are soft, then transfer them to a large mixing bowl.
Clean and chop the snap peas into bite-sized pieces and add them to the (now empty) skillet. Turn the heat to medium. When the peas are bright green, transfer them to the mixing bowl with the other vegetables.
Add the sliced almonds to the same skillet and toast over medium heat for 3-5 minutes (you'll know they're done when they turn golden and fragrant). Transfer to the mixing bowl.
Chop the mint finely and add to the other ingredients.
When the lentils are done, rinse them with cold water and drain them very well. Add to the mixing bowl.
Add the remaining salt, vinegar, and olive oil to the ingredients and stir well to combine. Adjust the seasonings as needed.
Serve warm or cold.
Notes
One thing to keep in mind when cooking lentils is not to add salt to the cooking water, as this can prevent them from softening in the hot water. (If you have further questions about this, Kitchn is an awesome resource for learning all you ever wanted to about how to cook perfect lentils.)  
Be sure and let the lentils sit for a couple minutes in the sieve or colander before adding them to the vegetables so they are very well drained.