It's likely you've had minestrone from a can that was basically uniform in taste and texture. What a disappointment! Because the most beautiful thing about minestrone is the variety of ingredients, which create a rainbow of flavor and textures that is deeply satisfying to eat.
Minestrone is  also incredibly versatile. While traditionalists might say it should be made with a bean broth, the fact is, you can make minestrone delicious with vegetable broth or even just water as the base. Another aspect of this versatility is all of the vegetables you can use—essentially, any of them. From cabbage to carrots to cauliflower, minestrone is at it's best when it includes a myriad of vegetables. Just as you need a variety of colors and shapes to make a painting interesting, so do you need a variety of textures and flavors to please your palate.
I came up with this recipe  on the fly. It was late in the afternoon one Sunday, and I had no idea what was for dinner. When I noticed how many small portions of random vegetables I had, I got to thinking about soup. My Italian heritage piped up, "I know—minestrone!" And out came this recipe.
Typically I test a recipe a few times before creating it, but this was so good I realized I didn't want to change a thing. In keeping with the traditional character of minestrone, it's rather thick, somewhat like a stew. You'll notice a day or two in the fridge doesn't hurt but helps—like many recipes rich with herbs, this soup is even better leftover. Happily, the gluten free pasta holds up just fine—it just gets bigger!
To make this a meal you won't soon forget, serve it with a side of this crusty garlic bread.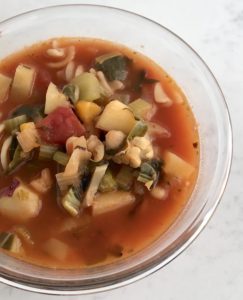 Print
Minestrone soup
Yield 6-8 servings
Ingredients
1 T grapeseed or other high heat oil
1 small onion, chopped
1 large carrot, cubed
1 med white potato, cubed
¾ cup small cauliflower florets
3 celery stalks, chopped
1 cup chopped fennel
4-6 chard leaves, chopped
¾ cup chopped cabbage
¼ cup chopped parsley
1 T fresh basil, chopped
1-2 cloves garlic, minced
1 tsp dried oregano
1 tsp fresh thyme, diced
1 tsp fresh rosemary, diced
1 T fennel seeds, diced
1 lemon, juiced
4 cups vegetable broth
2 cups water
14 oz. can tomato purée
14 oz. can fire roasted, diced tomatoes 
1 14 oz can white beans (e.g. Great Northern or Cannellini)
1 cup gluten free rotini noodles
1 T sea salt
½ tsp black pepper
Instructions
Prep all of the ingredients.
Heat the oil in a large soup pot over medium heat. Add the onions and a bit of salt.
Cook the onions five minutes, then add the carrots, potatoes, cauliflower and a bit more salt. Stir to combine and cook another five minutes.
Add the celery, fennel, chard, cabbage, parsley, garlic, oregano, thyme, rosemary, fennel seeds, lemon juice, veggie broth, water, tomato puree, diced tomatoes and remaining salt.
Cover the soup and simmer for 10 minutes on medium low heat.
Add the white beans, noodles, and pepper.
Simmer on low another 15 minutes or so, until the noodles and all of the vegetables are tender.
Notes
Any small pasta shape works well in this soup. You might also try orzo, shells, and orecchiette. Gluten free or semolina—either one works great.
If you like a thinner soup, add a bit more water until you reach your desire consistency. Adjust the seasonings accordingly.