Hippie food is easy to spot. Basically, if you see something with sunflower seeds, tahini, or coconut oil in it, it's probably hippie food. Which is to say it will be super delicious, abundantly nutritious, and maybe a little weird.
I am a triple Aquarius with three planets in the 12th house. If you know a lot about astrology, you're probably thinking, "Wow, she must be really weird." If you don't know anything about astrology, now you know a tiny bit: Aquarius is an independent humanitarian rebel. Pisces is an compassionate intuitive dreamer. I have a lot of both of these in me. So I'm maybe a little weird, too.
Guess it's no surprise that I like hippie food, then! The trouble is, when you eat food that "normal" people don't, it's hard to tell anymore if the food is weird in a good way, or just weird in a way that I've gotten used to. So, when I found myself making hippie food recently for a gathering of friends, I had to think twice about serving it. I mean, they know I'm weird, and that I eat weird food, but would they eat it, too? Would they like it?
My smart and sensible (also a little weird) husband encouraged me to go with it. He said I ought to call it healthy food instead of hippie food, that it's all in the messaging. So I did. And my people not only ate all of the dish—they raved about it!
I felt a little less weird, after that.
P.S. The more times you say weird out loud, the weirder it sounds.
P.P.S. This dish would be great as a side to some kind of soup. Like maybe this one…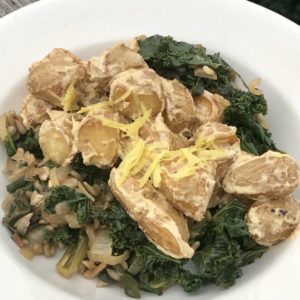 Print
Hippie-dippy potatoes and greens
Yield 4 servings
Ingredients
For the potatoes:
1 T coconut oil, melted
1 ½ lbs Fingerling or new potatoes, cubed
½ tsp smoked paprika
1 clove garlic, minced 
½ tsp sea salt
For the greens:
1 T coconut oil
1 bunch rainbow chard, including stems
1 bunch of lacinato kale, stems removed
½ an onion, chopped small
½ cup sunflower seeds
¼ cup dry white wine
½ tsp sea salt
For the dressing:
½ cup tahini
1 lemon, zested and then juiced
1 tsp. stoneground mustard
1 T apple cider vinegar
1 tsp agave
¼ tsp sea salt 
Water to blend
Olive oil to garnish (if desired)
Instructions
Preheat the oven to 400°.
Cut the potatoes into bite-sized pieces and throw them in a mixing bowl.
Add the oil, garlic, paprika, and salt and toss well.
Spread the potatoes out on a large baking sheet and roast for 15 minutes.
Stir the potatoes and bake another 10 minutes.
While the potatoes cook, cut or tear the greens into 1½" pieces and chop the onion.
Heat the oil over medium. Sauté the onions and add the salt.
When the onions are transparent, add the greens and white wine.
When the greens have reduced considerably (after cooking 5 minutes or so), add the sunflower seeds and turn the heat down to low.
Combine the remaining ingredients in a food processor. Blend on high speed, adding water a little bit at a time to create a consistency that is thick and creamy, somewhat like sour cream.
When the potatoes are soft and golden, toss them in an ample amount of dressing.
To serve, plate a bed of greens and add a portion of potatoes on top. Garnish with a bit of the lemon zest and a drizzle of olive oil, if desired.
Notes
If you have any leftovers, the potatoes and greens make a great hash when combined with other vegetables: mushrooms, zucchini, eggplant, green beans, beets, etc. Just be sure not to dress the potatoes or it may get weird (in a bad way).