Beer and cheddar soup is one of my favorites. I mean, it was before I knew about the dairy industry, with its mastitis, pus, forced pregnancy, orphaning of babies…
Ignorance was bliss, I guess.
But complicity sucks. And that's why I stopped eating dairy and why I created this Cheer and Better Soup. With a base of cauliflower and leeks, it's simple and quick to make. Cashew and nutritional yeast create a cheese-like experience that is complimented by good ol' beer. Just as your taste buds begin to wonder—is this actually cheese?—the beer sneaks in and snaps them out of their skepticism for a simple conclusion: YUM.
This vegan version of beer and cheddar soup is also very versatile. As long as you preserve the cashew-nutritional yeast and beer dynamic, you'll end up with something better to cheer about. I've used onion instead of leek, potato instead of cauliflower, had it with carrots and without. It's all good; this is just my favorite combo so far. But feel free to mix it up and throw in those extra couple potatoes, a can of white beans, or that stalk of celery in the vegetable drawer. Serve it with some crusty bread and salad or these Grilled Garlic Green Beans for a tasty meal that will satisfy the cheese lover in you.
Three cheers for kindness!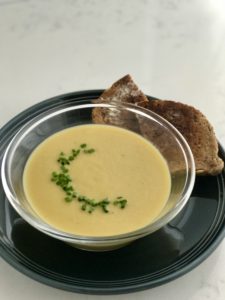 Print
Cheer and better soup
Yield 12 cups
Ingredients
2 T high heat oil (coconut, grapeseed, avocado)
2 large leeks, white and light green part
1 head of cauliflower, large leaves removed
1 close garlic, minced
1 cup cashews, soaked 2+ hours and drained
½ cup nutritional yeast
4 cups vegetable broth
2 cups water
12 oz flavorful beer (I like an IPA or Guinness)
1 T sea salt
1 tsp black pepper
2 T chopped (or dried) chives
Instructions
In a large soup pot, melt the coconut oil over medium heat.
Slice the leeks in half lengthwise, then into quarter inch strips (save the green part for soup stock!) and add them to the oil.
Break the cauliflower down into small pieces and throw it in with the leeks. Add the garlic and half the salt and stir well. Cover and simmer 10 minutes.
Add the vegetable broth, water, pepper, and remaining salt. Stir and cover again, bring to a simmer for 10 more minutes.
Add half the soup mixture, half the cashews and half the yeast to the blender and blend on high speed for 20-30 seconds, until a uniform consistency is reached.
Transfer the blended soup to a large bowl and repeat with the remaining vegetables, cashews and yeast.
Add all of the blended soup back to the soup pot. Slowly pour in the beer, stirring gently to combine. Taste and adjust the seasonings.
Garnish with chives.