When you think of snack mix you likely think of Chex Mix or Gardetto's—at least that's the first thing to come to my mind. This snack mix has little in common with either of those, which made me wonder if it was sort of a flight of fancy on my part. After eating a plant-based diet for a certain amount of time, your taste buds change; at least it seems that way. Food that I once enjoyed I no longer have a taste for (Cheetos!). So I thought I better test this snack mix on someone who could tell me if I was living a vegan dream, or if it is really is as good as I think it is.
Who better to ask than a football-watching, meat and potatoes-eating Dude? Fortunately, one of our good friends meets these criteria. We'll call him "Mike."
"Open your mouth and close your eyes," I said to Mike. "Now give me your hand."
I poured a couple tablespoons into his palm and told him to shoot it back, chew it up, and tell me what he thought.
There was a pause. A thoughtful look.
"I like it. It's good. Really good!"
"Really good?" I asked. "Or just good?"
"No, it's really good. I love the spice! I want some more!"
And that's how I knew I was on to something here with this tasty little mix that not only satisfies the urge to snack, but is actually good for you.
The foundation of garam masala—a spice blend that includes clove, mace, coriander, cinnamon, bay leaf, cardamom, and pepper—is complemented by turmeric and fennel, both of which have powerful medicinal qualities. It's a warming combination that is delicious no matter the time or place, but is especially good at game time, in school lunches, or as a mid afternoon palate pleaser to carry you through to dinner. It also makes a lovely (and unexpected!) hostess or holiday gift.
Need something to go with it? Try the coconut lime bean dip from the Tacos Cocos Locos recipe.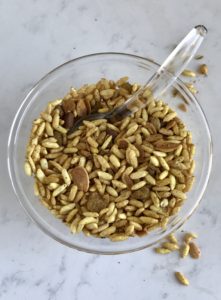 Print
Sweet and spicy snack mix
Yield 12 cups
Ingredients
10 cups puffed rice cereal
¾ cup coconut oil, melted
¾ cup pistachios
¾ cup sliced or slivered almonds
½ cup pine nuts
¾ cup golden raisins
¼ cup fennel seeds
3 T garam masala
1 ½ tsp. ground turmeric
1 T salt
1 tsp. black pepper
Instructions
Preheat the oven to 275°.
Combine the rice and nuts in a large, wide mixing bowl.
Sprinkle the all of the spices over the mix, then pour the melted coconut oil over the top and stir well until the spices are evenly distributed.
Spread the mix on a large baking sheet and bake for 60 minutes, stirring every 10 to 15 minutes.
Remove the mix and stir in the raisins.
Allow to cool completely before storing in an airtight container for up to a week.
Notes
If the nuts brown too quickly, turn the heat down to 250°. The goal is for them to be perfectly roasty toasty after 60 minutes of baking.
For best results, serve this snack mix shortly after preparing it.