Peanut butter and jelly, chocolate and peanut butter, yams and kale… these are all matches made in heaven.
Now, I know yams and kale aren't as famous together as the others, but they should be, and I think this stew is going to be the one that catapults the combo to stardom.*
Simply stated, this stew is off the hizzy. It's hearty and flavorful. It's savory and a little sweet. And it's just the right balance of warm, toothsome, and comforting. But that's not what makes it. What makes this stew of yams and kale entirely original and outrageously great…is the gravy.
Gravy is not a word vegans throw around very often. I suppose that's because real gravy is made of animal fat, and, well…obviously. But there's no better word for what this is. One taste will have you begging to know how a humble soup broth was elevated to gravy status. It's lucky for you that you read this far, because I'm about to tell you my secret ingredients. There are two (and it's not yams and kale!).
Not-so-secret-anymore ingredient #1 is white beans. Blended into the base of vegetable broth and water, the beans add protein and fiber while enriching and thickening the broth.
And then there's not-so-secret-anymore ingredient #2.
Are you ready for this?
Can I get a drum roll up in here? This calls for a drum roll.
<Ahem.>
The second secret ingredient is hoisin sauce, that delicious umami staple of Asian cuisine.
Hoisin sauce first came on my radar earlier this summer when I was looking for something to brush over grilled yams. A quick peek at the ingredient list revealed that hoisin sauce is made of…sweet potatoes! And what are sweet potatoes, basically, but yams.
So I guess our perfect twosome of yams and kale is really a thriving threesome: yams and kale…and hoisin. I promise it will change your life.*
Or, at the very least, it will make you glad it's fall.
*Or maybe not. But still.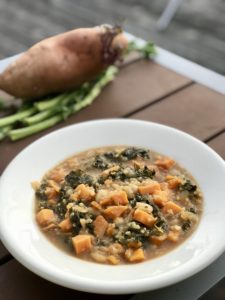 Print
Taste of autumn yam and kale stew
Yield 4-6 servings
Ingredients
1 large (or 2 small) ruby yams
1 clove garlic, minced
1 tsp. sea salt
1 T. high heat oil
8 leaves curly kale
1 T high heat oil
8-10 drops of liquid smoke
Pinch of salt
2 T high heat oil (coconut, avocado, grapeseed, etc.)
1 onion
Pinch of salt
2 cups cooked white beans (or one 15.8 oz can)
4 cups veggie broth
1 cup water
1/4 cup Hoisin sauce
1 T vegan Worcestershire
1 T balsamic or apple cider vinegar
1 T salt
½ cup quinoa
Instructions
Preheat your oven to 400°F. Chop the sweet potatoes into evenly sized cubes, about ½" x ½" x ½". Some variability is fine.
In a mixing bowl, combine the sweet potatoes with the garlic, salt and oil
Pour the potatoes over a large baking sheet and spread them out evenly.
Set aside.
Wash the kale and remove the stems.
Tear the leaves into 1" square pieces or slightly larger. They will shrink and soften when they cook.
Put the torn leaves, oil, liquid smoke, and a pinch of salt in the mixing bowl and toss well to mix the ingredients evenly.
Spread over another baking sheet.
Put the potatoes and kale in the oven side by side (or on two different racks). After five minutes, stir the kale.
Cook the kale five more minutes and then remove it from the oven. While you're there (after ten minutes, total, has passed), stir the potatoes. Bake the potatoes another 15 minutes.
While the kale and potatoes cook, chop an onion in half, top to bottom.
Cut the onion into ½ cm wide slices, discarding the top and bottom. (Think about the onions the last time you had French onion soup…that's what you're going for here).
Cook the onion in 2 T of oil over medium heat, stirring often to prevent burning. When the onions are evenly caramelized, turn the heat to low.
Add the broth, water, Hoisin sauce, Worcestershire, and vinegar to your blender along with half the beans. Blend well and add a bit of salt, to taste.
Once the onions are caramelized, pour the broth mixture over the onions.
Add the kale and sweet potatoes when they're ready along with the remaining white beans.
Bring to a simmer.
Add the quinoa* and turn the heat to the lowest setting.
Simmer, covered, for about 20 minutes, stirring occasionally.
Notes
Millet or barley can be used instead of quinoa but may require more cook time. 
Alternately, skip the quinoa altogether and serve the stew over the grain of your choice.
If you are gluten sensitive, double check that the hoisin and Worcestershire sauce don't contain any.