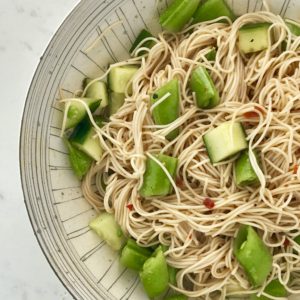 Sesame somen salad
Yield 4-6 servings
Ingredients
For the salad:
6 oz. somen noodles
2 carrots, peeled and grated
½ English cucumber, seeded
2 cups fresh snow or sugar snap peas (or substitute broccoli, zucchini, bok choy—whatever your kids like best!)
For the sauce:
¼ cup soy sauce
3 T sesame oil
2 T peanut butter
1 T agave
1 T chili oil (optional)
½ tsp chili flakes (optional)
Instructions
Fill a medium saucepan three quarters full and set it over high heat.
Wash and prep the vegetables: peel and grate the carrots. Deseed and slice the cucumber. Chop the pea pods into ½" pieces.
When the water comes to a rapid boil, add all of the noodles and gently stir to separate them.
Turn the heat to medium and set a timer for two minutes.
In a large glass measuring cup (one or two cups is ideal), add the soy sauce, sesame oil, peanut butter, agave, chili oil, and chili flakes.
Whisk the wet ingredients together.*
When the timer goes off, test a noodle.
When noodles are soft—this should take no more than two or three minutes—drain the hot water. Rinse them in the strainer with cold water, taking care to make sure all of the noodles get zapped with the cold water (this prevents them from overcooking).
Pour the noodles into a serving bowl.
Add the vegetables and dressing, using kitchen tongs to distribute them evenly.
Notes
*My favorite technique to whisk ingredients quickly is to hold the whisk handle between my palms and rub them together quickly. Once you know how to do this you'll never not use this technique again—it's so fast and so effective!
Worried about protein? You can easily punch up the protein in this dish by adding fresh or marinated tofu or tempeh.
This dish is perfect to take for lunch—or pack in a lunch box!
Versatility is one of the best things about this recipe. Don't be afraid to try different vegetables, herbs, or garnishes to change it up. Some options include broccoli, zucchini, bok choy, cilantro, Thai basil, mint, peanuts, fried onions, and sesame seeds.
Recipe by Eat Like a Yogi at https://eatlikeayogi.com/sesame-somen-salad/