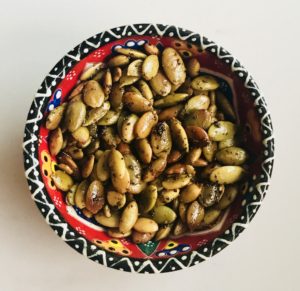 Seasoned pepitas
Yield 1/2 cup
Ingredients
½ cup raw hulled pumpkin seeds
1 T grapeseed oil (or other high heat oil)
1 tsp all-purpose seasoning
¼ tsp salt
Instructions
In a medium sauté pan over low-medium heat, add the pumpkin seeds and oil.
Stir every couple of minutes.
When the pumpkin seeds begin to smell toasty (6-8 minutes), add the all-purpose seasoning and salt.
The seeds are ready when they're golden brown and smell delicious.
Store in a small airtight container in the refrigerator.
Notes
These are a perfect garnish for salads or a grain bowl, especially the smokey yam and kale bowl.
Or, try them on their own! Pumpkin seeds are super robust, nutritionally-speaking, and their high fat content makes them a satisfying snack.
Recipe by Eat Like a Yogi at https://eatlikeayogi.com/seasoned-pepitas/