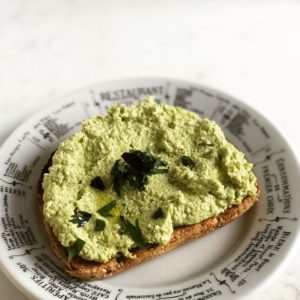 Edamame hummus
Yield 1 1/2 cups
Ingredients
10 oz. frozen edamame, shelled
¼ cup olive oil
¼ cup freshly squeezed lemon juice
2 T liquid aminos
½ tsp salt
1 clove garlic
1-2 T water
Instructions
Add the edamame to boiling water and cook five minutes.
Drain and rinse with cold water.
In a large food processor, combine the olive oil, lemon juice, liquid aminos, salt, and garlic.
Blend thoroughly until the hummus has a smooth, creamy texture, adding more water— a tablespoon at a time—as needed.
Notes
There is no end to the number of ways you can use this hummus: as a dip for vegetables, condiment for tacos, sandwich topping, or simply spread on toast and topped with herbs and lemon zest.
You can easily vary this recipe by adding a bit of sesame oil, fresh herbs, spices, vegan Worcestershire, etc.—whatever your heart desires.
Recipe by Eat Like a Yogi at https://eatlikeayogi.com/edamame-hummus/