You may not have heard of a sandwich pocket, but I guarantee you've had one. Every culture I can think of has found a way to enclose food in some kind of edible wrapper. Mexican burritos are to a French crepe what Polish pierogis are to Spain's empanadas. Make Asian cuisines feature spring rolls or lumpia, while Italians eat calzones, Greeks devour pitas, and Eastern India savors samosas. It's no wonder…what better way to deliver food than in an edible wrapper?
Another great thing about sandwich pockets is that you can put whatever you want in them. Since I personally don't like to use recipes (ironic, huh?), I like to write recipes that can be easily customized by YOU. Once you have the general idea down, you can change it up any number of ways, from varying the veggies to switching the spices. You can make your sandwich pockets smaller by using smaller tortillas, or fry them instead of baking. Not that you'll want to change a thing…this recipe is delectable exactly as it is.
For a little extra pizazz, serve these with a side of Harissa Cashew S'dip for dipping.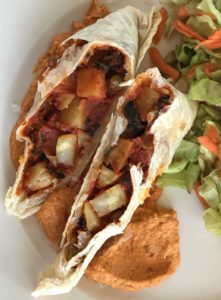 Print
Super veggie sandwich pockets
Yield 6 pockets
Ingredients
3 T grapeseed oil
1 lb. new potatoes, cut into small cubes
1 small onion, diced
1 bunch of chard, chopped (including the middle stems)
1 ½ cups green peas (fresh or frozen)
6 oz. tomato paste
2 cloves garlic, minced
2 tsp. salt
2 tsp. cumin
1 tsp. smoked paprika
8 large (8") flour tortillas
Instructions
Preheat the oven to 350°.
Heat the oil over medium heat and add the onions, potatoes, and 1 tsp. salt.
Cover and cook for 10 minutes, stirring occasionally. 
Stir in the minced garlic. Then add the peas, cumin, paprika, and remaining salt. 
Turn the heat to medium low and cook another 5 minutes, covered.
Add the chard and tomato paste and stir well to combine.
When the chard has cooked down (way down), turn off the heat and divide the mixture into six even portions. 
Using a pizza cutter, cut one tortilla into six evenly sized triangles.
Take a whole tortilla and one portion of the vegetable mixture. Shape the vegetables into a triangle in the center. Cover the vegetables with one of the six tortilla triangles you just cut. 
Fold the sides of the tortillas over the vegetables to form one large triangular pocket. 
Repeat five more times. 
Lay the sandwich pockets on a large baking sheet and bake for 20 minutes.
Cool and serve or store in an airtight container for up to three days. 
Notes
If you don't fill the pockets quite so full you can reasonably get seven sandwich pockets out of this recipe, though you won't have the extra tortilla triangle for the last one (which just means things could get a little messy).