Lacinato kale is one of my favorite vegetables. It's easy to grow, is available year-round, and pairs with a huge variety of other foods. Kale's rich green color reveals it's extraordinary nutrient density—it's very high in vitamin K, vitamin A, vitamin C, vitamin B6, folate, and manganese—as well as several other vitamins and minerals (including iron, which I am all about!). The flavor is more complex than most leafy greens, and unlike cooked spinach and bok choy (ick—no offense guys), it doesn't make me feel like I'm gagging when I eat it. All hail kale!
I noticed recently I was getting kind of sick of green salads—that is, lettuce with some other veggies and dressing—so when I saw kale at the farmers market last Sunday, I snatched it up and away we went.
This salad is visually quite striking and special enough to serve to company. I thought about adding some crumbled cashew cheese but when I tried a bite, I didn't think it needed a single thing. Of course, you can adapt it however you like.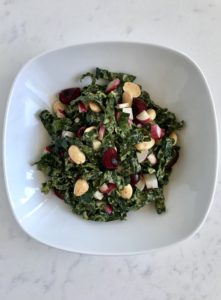 Print
Summer kale salad
Yield 4 side salads
Ingredients
1 lg. bunch of lacinato (dino) kale
½ cup Marcona almonds
12-15 Bing or Rainier cherries
12 small radishes, any variety
½ cup of Creamy shallot dressing
Instructions
Wash the kale well and remove excess water with a salad spinner or towel.
Remove the kale leaf from the fibrous middle stem by holding the stem with one hand and sliding your other hand up the stem, bottom to top, gently gripping as you go. The leaf should come of easily in your hand. Discard the stems.
Ribbon cut the kale leaves (see photo).
Quarter the radishes lengthwise, then slice the quarters into even pieces. How big or small you make them is up to you; just try and make them all roughly the same size.
Cut all of the cherries in half and remove the pit (or use a cherry pitter). Then quarter the cherries. 
Combine the kale, radishes and cherries in a bowl with approximately half a cup of the creamy shallow vinaigrette. 
Garnish each salad with several whole almonds just before serving. 
Notes
You might prefer more or less dressing...avoid overdressing the salad by adding a little bit at a time until it's the way you like it.
To ensure even distribution, massage the entire salad mixture with your hands. This will help soften the kale leaves, as well!