Green beans, also known as string beans, are as easy to grow as they are versatile. Because they're easy to grow, they're plentiful and inexpensive. Because they're versatile, you see them popping up all over the place, from minestrone to stirfry to the ubiquitous Thanksgiving classic: green bean casserole.
But a green bean needs very little to shine, and that's where this recipe comes in. The grilling process softens them nicely but leaves their basic flavor intact. The black garlic oil adds depth and umami—it's not a very common ingredient, just yet, so it's a nice way to set this recipe apart from others you are used to. The final touch of macadamia nut "parmesan" adds texture and earthiness.
Don't be surprised if the next time you make them you have them for a main dish…they're that good!
For a perfect picnic, try these green beans with Berkeley Potato Salad.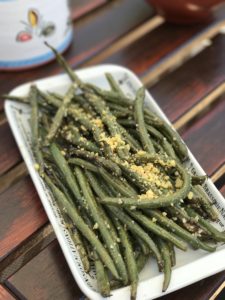 Print
Grilled green beans
Yield 4 servings
Ingredients
1 T grapeseed oil
1 lb. green beans
2 T olive oil
2 cloves black garlic
1 ½ tsp. salt
1 cup macadamia nuts
¼ cup nutritional yeast
Instructions
Wash the green beans and remove all stems.
Pour the grapeseed oil over the beans and toss well to coat.
Cook the green beans in a grill basket over high heat—stirring occasionally—for about ten minutes. They should look somewhat charred and be crisp-tender when you bite one.
When the beans are done, remove them from the heat.
Using an immersion blender, blend the olive oil and black garlic. Pour the oil over the green beans and add ½ tsp. of the salt.
Combine the macadamia nuts, nutritional yeast and remaining salt in a blender. Blend until the mixture resembles course crumbs, stirring as often as necessary to keep things moving. 
Add ¼ cup of the mac nut "parmesan" mixture to the beans, tossing well. Add more if you like. Garnish with another tablespoon or so of parmesan before serving. 
Notes
Make sure your grill is nice and hot before putting the green beans in the basket; this will ensure more even cooking.
Do not over blend the macadamia nuts or you will end up with a paste instead of a crumble.