Pass the douchi! No, not the dutchie. The douchi! Because they are what makes this dish.
Douchi are fermented and salted black soybeans. If you have ever had an Asian dish with black bean sauce, it likely included douchi.
The flavor of douchi reminds me somewhat of black garlic…deeply savory and with an umami quality that is hard to explain any other way. They're visually striking because they're black, creating a beautiful contrast with all of the color in this dish.
In addition to this dish being flavorful and visually stunning, it's also fast to make—perfect for a night when company drops in at the last minute or you want to be a little fancy and don't have much time.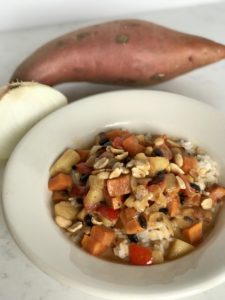 Print
Yam curry with pineapple
Yield 4 servings
Ingredients
2 T coconut oil
½ medium onion, chopped
1 red pepper, chopped
1 medium sweet potato, cubed
1 cup pineapple pieces
1 ½ T red Thai curry paste
2 T douchi (fermented black soybeans)
1 ½ tsp sea salt
1-14 oz can coconut milk
½ c chopped peanuts
Instructions
In a skillet over medium heat, melt the coconut oil and add the chopped onion.
Chop the red pepper, sweet potato, and pineapple (if you're using a fresh pineapple).
When the onions appear translucent, add the peppers and sauté a few minutes, until they begin to soften. Add the sweet potatoes and salt and cover.
Allow the vegetables to cook/steam for 7-10 minutes, stirring occasionally. Add a little water or broth if they begin to stick.
When the sweet potatoes are soft, add the pineapple, douchi, and curry seasoning. Turn the heat to low.
After five minutes over low heat, pour in the coconut milk and stir well to combine. Let the mixture sit over low heat while you prep serving bowls with around ¾ of a cup of cooked jasmine rice.
Ladle the curry over the rice and garnish with chopped peanuts.
Notes
Pay close attention to things as you get underway; the vegetables cook over medium heat, which is not as forgiving as a lower temperature. In other words: stir often!
Serving the curry over fresh spinach is a great way to add nutrition (and color!) and reduce the carbohydrate content of this meal.
If you are gluten intolerant, double check the douchi don't contain gluten—some brands do.
You'll likely end up with a 1 pound bag of douchi. Don't know what to do with them? Share them with a neighbor, along with this recipe!