The first time I tried to make my own granola I burned the hell out of it, which hurts a little when it's loaded with gorgeous (and not inexpensive) superfoods. Fortunately, it was immediately evident what I needed to do differently: add the fruit last. Apparently, dried fruit is a bit more vulnerable to burning than rolled oats. [These are the kinds of things I would learn if I ever read a cookbook, but I dislike imposed rules (like recipes) so much that I. just. can't. So…live and learn.]
Despite adding a couple steps to my initial recipe, this granola is still so easy to make. It's super nutritious and satisfying and can be served a number of ways: straight up, as a cereal, in a parfait, or as a garnish for a dessert or even a salad. Three cheers for versatility!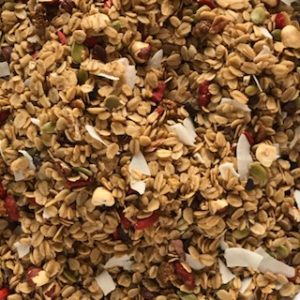 Print
Superfood granola
Yield 12 servings
Ingredients
6 cups gluten free rolled oats 
¾ cup maple syrup
½ cup grapeseed oil
1 tsp. salt
1 tsp. cinnamon
¼ tsp. ground ginger
½ cup pumpkin seeds
½ cup dried coconut
½ cup chopped pecans (optional)
½ cup chopped hazelnuts (optional)
⅓ cup dried mulberries
⅓ cup goji berries
¼ cup cacao nibs
Instructions
Preheat oven for 225 degrees F. 
In a large mixing bowl, combine the oats, maple syrup, grapeseed oil, salt, and spices. Stir until all of the liquid is absorbed by the oats and the spices are evenly distributed.
Spread the mixture evenly on a large (13"x18") cookie sheet, or two smaller ones. 
Bake for 30 minutes, stirring every ten minutes or so.
While the oats bake, combine the nuts in one bowl and the fruit and cacao nibs in another. Set aside.
After 30 minutes, pour the nuts over the oats and stir them gently into the mixture. 
Bake another 15 minutes, or until things start to smell toasty and delicious.
Remove the granola from the oven and return it to the mixing bowl—careful, cuz it's hot!
Fold in the dried fruit and cacao nibs.
Allow to cool completely, then store in an airtight container. 
Notes
The tree nuts are listed as optional here for anyone who has an allergy. In that case, try substituting sunflower and/or sesame seeds, or increase the pumpkin seeds and dried coconut by a quarter cup each.
If you can't find goji berries or mulberries, you could substitute any dried fruit: golden raisins, blueberries, cranberries, cherries, etc.
Keep a close eye on things, especially if you're using two smaller baking sheets, as things will cook faster.
If you won't use the granola within a week or so, freeze it so it will stay fresh.