There are so many reasons to love this dish: it's quick, flavorful, and hearty. It doesn't require many dishes, makes a beautiful presentation and it's so easy! Plus this is an ideal dish to make when you're having company because it hardly requires any time in the kitchen. I like to serve it with a side salad—a vegan Caesar or mixed greens is a perfect counterbalance to the richness of the pasta sauce.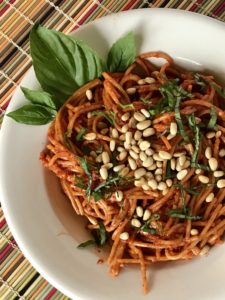 Print
Sundried Tomato Pasta
Yield 4 servings
Ingredients
16 oz. brown rice pasta
8 oz. jar sundried tomatoes, with oil
1 clove garlic
2 T balsamic vinegar
1 T raw honey
1 T tomato paste
Juice of one lemon
1 tsp. red pepper flakes
1 tsp. smoked paprika
1 ½ tsp. salt
½ tsp. ground black pepper
¼ cup pine nuts, toasted lightly
½ cup finely chopped Italian parsley or basil, plus more to garnish
Instructions
Add the tomatoes, garlic, vinegar, honey, tomato paste, lemon juice, and seasonings in a blender and blend on medium-high until the ingredients are well combined and mostly smooth. Set aside for now.
Prepare the pasta the way you normally do, taking care to stir well after adding the noodles to the water so they don't stick together.
While the pasta cooks, toast the pine nuts in a saucepan until they are golden and fragrant. This is a good time to chop the parsley, as well.
When the pasta is cooked to your liking, remove it from the heat.
Reserve ¼ cup of the pasta water and add it to the sauce, blending again to combine well.
Rinse the noodles well in cool water and return them to the pot over the burner on low heat.
Add the sauce gradually to the noodles until they are covered with enough sauce to be optimally delicious. (I typically use all of it, but see what you think...)
Cover the pasta and allow it to sit for 2-3 minutes on the heat, stirring gently (this is an essential step if you don't want a lukewarm dish!).
Once the noodles are hot, add the pine nuts, and parsley or basil. Combine well and serve into individual bowls, garnishing with more herbs, as you like.
Notes
Salting the pasta water generously will impart more flavor to your dish (and reduce the time it takes your water to boil). 
If you have leftover sauce, freeze it in a glass container or ice cube tray. You can use it to make this recipe again, combine the cubes with cashew cream for an easy veggie dip, or use it as a base for a salad dressing.