Confession: the recipe says smoothie but it's really more like a milkshake, because you can't drink this pink wonder without feeling like you're drinking dessert.
The good news is that this smoothie is way more nutritious than a milkshake. So you can treat yourself and nourish yourself deeply at the same time—just the kind of mad self-love we are all about here. Try it for breakfast, as a midafternoon snack, or a satisfying dessert after a spring supper.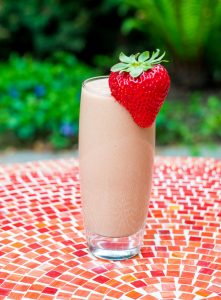 Print
Pink Wonder Smoothie
Yield 2 servings
Ingredients
2 cups frozen strawberries
1 frozen banana
¼ ripe avocado
4 dates (pitted)
3 cups coconut water
1 T. maca powder
½ tsp. vanilla
pinch of salt
Instructions
Blend all of the ingredients until the strawberries and dates are completely incorporated. Makes two generous servings.
Notes
If you have popsicle molds, this smoothie freezes perfectly for a cold, creamy treat.
Blueberries also work well in this recipe, as do raspberries and blackberries—if you don't mind the seeds.