"I don't know what to call this harissa cashew sauce-dip stuff," I said to my husband quizzically.
My five-year-old son, who has uncanny hearing when he wants to, replied immediately, "Why don't you call it s'dip?"
This is his thing lately—combining two words to make a new word. In this instance, I think it works. S'dip. A contraction between sauce and dip that kind of sounds like "it's dip." There you have it.
I make cashew milk every few days so I'm often looking for ways to use the cashew cream that is leftover. It takes a bit of imagining, but if you close your eyes, pat your head and rub your tummy, the leftover cream appears rather cream cheese-like. Thus it's a perfect thing to replace the cream cheese, sour cream, or mayonnaise that you typically find in non-vegan sauces and dips.
Recently I was working on a savory recipe that was too dry. I had some cashew cream in the fridge sitting next to a jar of harissa, and a lightbulb went on. Harissa cashew s'dip was born. Try it with crudité, as a spread on sandwiches, or as a dip with the Super Veggie Sandwich Pockets. S'good!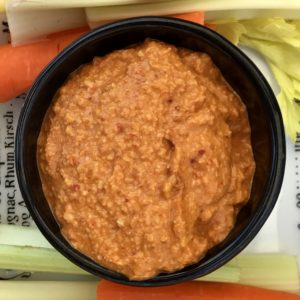 Print
Harissa cashew s'dip
Yield 1 cup
Ingredients
1 cup soaked cashews (or 1 cup cashew cream, leftover from making cashew milk)
½ cup unsweetened nut milk (omit this ingredient if you are using cashew cream instead of raw cashews)
¼ cup harissa
1 tsp. agave
½ tsp. salt
½ tsp. smoked paprika
5-6 drops of liquid smoke 
Instructions
Soak one cup of cashews for eight hours.
Since and drain the cashews and put them in the blender. Or if you are using cashew cream, add it to the blender and proceed.
Add all of the other ingredients to the blender.
Pulse to mix, then blend on low until the mixture is a uniform consistency, adding a touch more nut milk if needed.
Refrigerate the dip in a tightly sealed container for up to five days.