I don't know if grain bowls are a new trend or if I'm late to the party, but I'm noticing lately that they're everywhere. From cooking magazines to my Instagram feed to a new restaurant I passed yesterday in downtown Seattle. I think it's safe to say that grain bowls are a thing.
And why not? Food tastes better when it's combined with other food. Take, for example, soup. Or salad. Or sandwiches. And don't forget tacos, wraps and most pasta dishes. A mix of textures, colors, and flavors=YUM!
Grain bowls are especially good for families because everyone can customize their bowl/meal to their own liking. They're great for entertaining when you might not know everyone's food preferences. Grain bowls make a perfect packed lunch and the leftover ingredients can be repurposed any number of ways. Oh, and grain bowls are super easy to make. There are so many reasons these things are a thing!
It might seem obvious how to make a grain bowl that you'll want to recreate again and again—just put some grain in a bowl and throw in some other stuff, right? Yeah…kinda. Try doing that and you might end up with something great, or you might end up with something one note and bland-o.
To ensure your bowls are consistently awesome, I'm gonna let you in on a secret. It's a formula, really:
Grain + Protein + Greens + Veggies + Nuts + Flavor Punch + Dressing or Sauce = Sure thing, every time.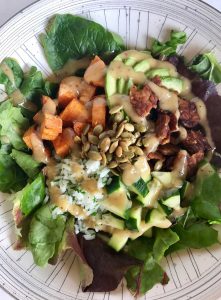 Print
Great grain bowls
Ingredients
¾ c. grain

½ c. protein

1 c. greens

1 c. assorted veggies

¼ c. nuts

1-2 T. whatever flavor punch/es you choose

2 T. dressing or sauce
Instructions
To decide which ingredients to use, just consider what you like and which flavors seem like they would compliment each other. For example, if you decided to make a Thai-inspired bowl, you might use rice, spicy tofu, peppers, cucumber, carrots and peanut sauce. A BBQ bowl might feature millet, BBQ flavored tempeh, baked beans, corn, collards, cabbage, and BBQ sauce.
Prep the ingredients and set them out like a salad bar, or put them all on the table and people can take what they want. Bask in their delight—and yours!
Notes
Here are some great ideas in each category:
Grains (or, from a nutritional standpoint, starch): White rice, brown rice, black rice, millet, quinoa, faro, corn, potatoes, sweet potatoes, baked squash.
Proteins: Beans, chickpeas, lentils, tofu, tempeh, seitan, edamame
Greens: Spinach, kale, chard, cabbage, radicchio, romaine, endive, or really any variety of lettuce
Veggies (cooked, raw, or both): Grated carrots, cucumber, avocado, beets, tomatoes, bell peppers, onions, leeks, cauliflower, roasted root veggies, squash, etc.
Nuts: Toasted walnuts, hazelnuts, pumpkin seeds, almonds, peanuts, soy nuts and sunflower seeds are all great
Flavor punch: Pickled vegetables, olives, marinated mushrooms, peppadew peppers, douchi, capers, fresh herbs such as parsley, chives, basil, thyme, tarragon, dried onions, flavored salt, hot sauce or nutritional yeast
Dressing or sauce: Tahini, vinaigrette, something creamy, harissa, guacamole, lemon or lime juice, peanut sauce, goddess dressing, etc.