This soup is a study of contradictions: light yet filling. Sweet yet nutritious. Rich yet simple. This might be why it's so delicious, no matter the weather or time of day. I made it recently on a chilly summer evening and it tasted just as good as it does while watching the Seahawks in the middle of December.
I can't say if this stew is aptly named, as I have never been to the Caribbean. But if there is an intersection of peanuts, coconut, peppers, and cumin, it seems like it might be somewhere south of Florida, west of Africa, east of Mexico, and north of Antarctica. So let's just call it Caribbean and get on with things, shall we?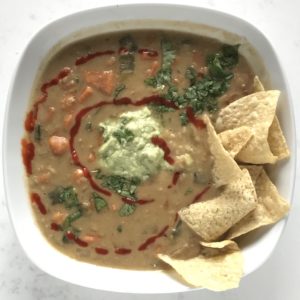 Print
Caribbean red lentil stew
Yield 6-8 servings
Ingredients
2 T coconut oil
1 cup chopped carrots
1 cup chopped onion
1 cup chopped celery
3 charred Poblano peppers
2 medium sweet potatoes
½ tsp cayenne
Hearty dash of allspice
1 T cumin
2-3 T salt
1 heaping cup red lentils
4 cups vegetable broth
2 cups water
1 cup peanut butter
1 can coconut broth
Corn chips
Cilantro (opt.)
Avocado (opt.)
Hot sauce (opt.)
Instructions
Chop the carrots, onion and celery so they are evenly sized.
Heat the coconut oil on medium heat and add the vegetables.
While those begin to cook, char the peppers under the broiler or on the gas range.
Peel and chop the sweet potatoes into ½ inch cubes.
Slice the charred and rinsed peppers lengthwise into ½ inch slices and then cut them crosswise into ¼ inch pieces (so you have a bunch of little rectangles).
Add to the pot along with the sweet potatoes, the rest of the salt, and all of the spices. Stir well to combine.
Simmer the vegetables for five minutes, then add the lentils, broth and water. Cover and bring to a boil, then turn to low and simmer for twenty minutes, stirring occasionally.
Check to see that the sweet potatoes are soft and the red lentils are losing their shape. Add the coconut milk and peanut butter, stirring well to make sure any lumps in the peanut butter melt completely into the broth.
Taste test! Add more salt or pepper, if you like.
Garnish with chopped cilantro, avocado, and/or cashew cream, and serve with a side of corn chips.
Notes
If you don't feel like tangling with the whole pepper charring situation, buy a small can of diced green chilis and use those instead. It will change the flavor slightly but is still super tasty!
To make a nice sour cream alternative that goes well with this stew, blend a couple tablespoons of lime juice with a cup or so of cashew cream and a pinch of salt.