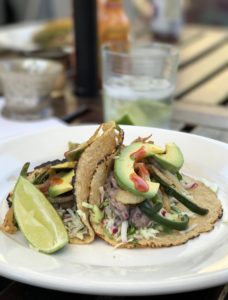 Tacos cocos locos
Yield 4 servings
Ingredients
For the cooked vegetables:
1 T grapeseed oil
1 onion, sliced
1-2 poblano peppers, sliced very thin
1 tsp cumin
½ tsp chipotle powder
½ tsp salt
For the beans:
2 cans black beans, drained and rinsed
½ cup coconut milk
1 T fresh lime juice
For the fresh vegetables:
¼ head of cabbage
6-8 radishes
½ bunch of cilantro (leaves only)
To complete the tacos:
8-10 small corn tortillas
1 avocado, sliced
Your favorite hot sauce
Instructions
Slice the onion and pepper/s.
In a large skillet or sauté pan, heat the oil over medium heat and add the vegetables and spices.
Stir often until the onions and peppers begin to caramelize and are soft and fragrant.
Turn heat to low when the vegetables are done cooking.
While the vegetables cook…
In a food processor fitted with the 'S' blade, combine the black beans, coconut milk, lime juice, and salt.
Blend well until the mixture forms a consistent creamy texture.
Transfer the beans to a skillet over low heat.
For the fresh vegetables...
Rinse the food processor and find the grating blade.
Cut the cabbage into pieces that will fit through the feed tube of your food processor.
Run the cabbage, radishes, and cilantro through the grater.
Stir the vegetables well to combine and transfer to a serving bowl.
Remaining steps...
Slice the avocado evenly.
Warm the tortillas (or char them over a gas stove).
Transfer the bean mixture and cooked vegetables into serving bowls.
Assemble the tacos at the table—everyone can make their own!
Notes
I already mentioned this, but it bears repeating: the black beans make an awesome dip for corn chips! Especially served with our epic Sweet and Spicy Snack Mix. 
Recipe by Eat Like a Yogi at https://eatlikeayogi.com/tacos-locos-cocos/