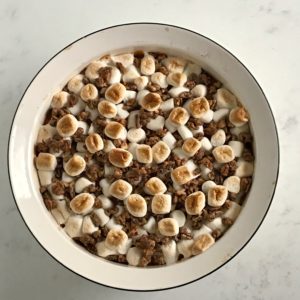 Sweet potato casserole
Yield 12 servings
Ingredients
1 T grapeseed oil
4 lbs. sweet potatoes or yams (about 3 large)
1 tsp finely grated orange zest (optional)
½ cup fresh squeezed orange juice (1-2 oranges)
⅔ cup maple syrup
2 tsp pumpkin pie spice
½ cup soy free Earth Balance
2 T chia seeds
¾ tsp salt
½ cup chopped pecans
2 T maple syrup
Pinch of cayenne*
Pinch of salt
8-10 large vegan marshmallows (or 1 cup mini vegan marshmallows)
Instructions
Prep the Potatoes
Preheat the oven to 400°.
Slice the yams or sweet potatoes in half. Brush with oil and place face down on a baking sheet.
Bake the yams for 35-45 minutes or until the thickest part is completely soft.
While the yams are baking, juice the orange and prepare the pecans.
Prep the Pecans
In a small skillet over medium-low heat, warm the chopped pecans. When they become fragrant, add the maple syrup, cayenne, and salt.
Stir the pecans continuously until they are nice and toasty (they will smell really good when they're ready) and the maple syrup coats the nuts.
Turn off the heat.
Finish the dish
Remove the potatoes from the oven and allow to cool for five minutes. The skin will become wrinkled and loose.
Remove the skin and any tough or fibrous ends. Place the sweet potatoes into a large mixing bowl with the orange zest, orange juice, maple syrup, pumpkin pie spice, Earth Balance, chia seeds, and salt.
Beat well with an electric mixer for 2-3 minutes or until the mixture is smooth and very well blended.
Scrape the sweet potato mixture into an oven safe serving dish and spread it around evenly, so the top of the potatoes is flat. Set aside for a moment.
Slice 8-10 marshmallows in half and arrange them over the top of the sweet potatoes.
Sprinkle the pecans over the marshmallows.
Bake, uncovered, for 20-25 minutes, until the marshmallows begin to look puffed and golden.
Serve warm.
Notes
*Maybe sprinkle the cayenne instead of actually pinching it, unless you want to risk cayenne in your eye, nose, or mouth.
When buying your sweet potatoes, try and match them evenly in size and thickness to ensure even roasting.
In case you don't have any chia seeds, eliminate the orange juice. That will eliminate some of the moisture so you don't need the seeds.
Recipe by Eat Like a Yogi at https://eatlikeayogi.com/sweet-potato-casserole/