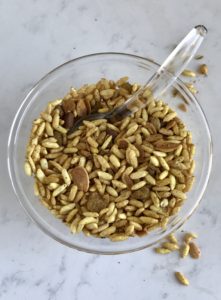 Sweet and spicy snack mix
Yield 12 cups
Ingredients
10 cups puffed rice cereal
¾ cup coconut oil, melted
¾ cup pistachios
¾ cup sliced or slivered almonds
½ cup pine nuts
¾ cup golden raisins
¼ cup fennel seeds
3 T garam masala
1 ½ tsp. ground turmeric
1 T salt
1 tsp. black pepper
Instructions
Preheat the oven to 275°.
Combine the rice and nuts in a large, wide mixing bowl.
Sprinkle the all of the spices over the mix, then pour the melted coconut oil over the top and stir well until the spices are evenly distributed.
Spread the mix on a large baking sheet and bake for 60 minutes, stirring every 10 to 15 minutes.
Remove the mix and stir in the raisins.
Allow to cool completely before storing in an airtight container for up to a week.
Notes
If the nuts brown too quickly, turn the heat down to 250°. The goal is for them to be perfectly roasty toasty after 60 minutes of baking.
For best results, serve this snack mix shortly after preparing it. 
Recipe by Eat Like a Yogi at https://eatlikeayogi.com/sweet-and-spicy-snack-mix/