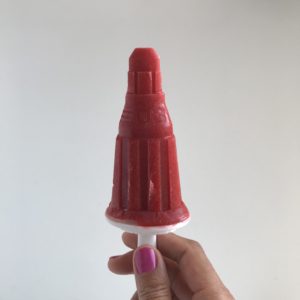 Strawberry lemonade rocket pops
Yield 2.5 cups
Ingredients
1 pint of strawberries, cleaned and hulled
1 cup grapes, washed
1 lemon, juiced (seeds removed)
1 T agave nectar (more or less to taste)
Instructions
Place all of the ingredients in a blender.
Blend on high until the fruit becomes a puree.
Pour into popsicle molds and freeze at least three hours.
Notes
Add more or less agave nectar to taste. Add slowly…you can always put more in but you can't take it out!
If you like a chunkier pop, stop blending the fruit before it becomes one uniform consistency. Just keep an eye on things until the puree looks right to you.
In case you have any leftover puree, add some sparkling water or your favorite fermented beverage for a treat of your own!
Recipe by Eat Like a Yogi at https://eatlikeayogi.com/strawberry-lemonade-rocket-pops/