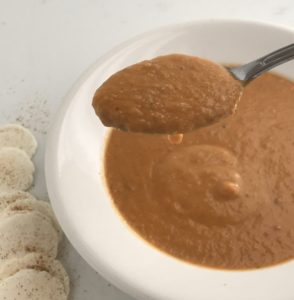 Root veggie vindaloo soup
Yield 6-8 servings
Ingredients
2 T grapeseed oil (or any other high heat oil)
1 medium onion, diced
1 lb. sunchokes, cleaned thoroughly and chopped into half inch pieces
1 lb. carrots, peeled and chopped into half in pieces
2 cloves garlic, minced
1" fresh ginger, finely grated
1—1½ T vindaloo curry seasoning
1—15 oz. can diced tomatoes
2 tsp. sea salt
½ cup cashews
5 cups water or vegetable broth
1—15 oz. can coconut milk
Instructions
Cover the cashews with warm water and set aside.
Chop the vegetables.
Heat the oil over medium heat and add the onions.
Sauté the onions for five minutes, then add the sunchokes and carrots. Stir well and cover.
Cook the vegetables together for five more minutes, then add the garlic, ginger, curry seasoning, tomatoes, salt, and water or broth.
Cover and bring to a boil.
Once it reaches boiling, turn the heat to low and simmer 30 minutes.
Drain the cashews and add them to the blender.
Collect 1-2 cups of the soup broth and pour it over the cashews. Blend well, until the mixture is smooth and even.
Add a portion of the veggies and broth to the cashew mixture and blend to your desired consistency.
Pour the prepared soup into a serving bowl or storage container (depending on when you're serving it).
Blend the remaining vegetables and broth with the coconut milk to your desired consistency and add it to the first batch you already blended.
Whisk together to incorporate the two batches completely.
Notes
Personally, I like this soup best with a little texture, so I use the pulse function on my Vitamix and keep a close eye on it as I go. A puree is also nice, but this soup has a rustic quality that lends itself nicely to some chunkiness.
Garnish with cilantro, chopped toasted cashews, plain non-dairy yogurt, or whatever else your heart desires.
This recipe is delicious served over basmati rice.
Recipe by Eat Like a Yogi at https://eatlikeayogi.com/root-veggie-vindaloo-soup/