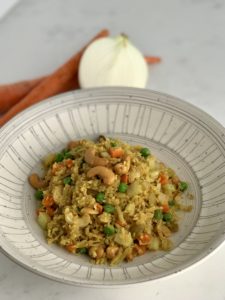 Curried cauliflower fried rice
Yield 4 servings
Ingredients
2 T grapeseed or coconut oil
2 large carrots, quartered lengthwise and chopped
3-4 celery stalks, halved lengthwise and chopped
1 small onion, diced
¾ cup frozen peas
¾ cup fresh or frozen corn
4 oz. tofu, diced
1 jalapeno pepper, diced
1 large head cauliflower, grated
3 T yellow curry powder
2 tsp sea salt
1 T soy sauce
1 cup roasted cashews
¼ cup golden raisins
Instructions
Heat 1 tablespoon of oil in a large skillet over medium heat. Add the carrots, celery, and onion along with one teaspoon of salt. Stir well to combine and frequently thereafter.
When the onions are transparent, add the peas, corn, jalapeno, tofu, and soy sauce (in case of a soy allergy, leave out the tofu and replace the soy sauce with 2 tsp. sea salt).
Cook for another 5-7 minutes over medium low heat. You'll know the vegetables are ready when the mixture is fragrant and the flavors have begun to merge.
While the vegetables cook, fit your food processor with the grater blade.
Remove the large leaves from the cauliflower head and cut it into pieces that can easily fit through the feed tube of the food processor. Grate the entire head (in batches, if need be).
Transfer the cooked vegetables to a large bowl and heat another tablespoon of oil in the skillet over medium heat. Add the riced cauliflower, curry powder, and remaining salt.
Cook the cauliflower for 8-10 minutes, stirring often to ensure even heat and complete distribution of the curry.
Add the cooked vegetables to the cauliflower, along with the cashews and golden raisins. Adjust the seasonings as needed—you might like a bit more soy sauce or salt.
Cook the mixture altogether for a few minutes over medium low heat and serve, garnishing with a few more cashews or chopped celery leaves, as you wish.
Notes
Half a cup of pineapple chunks or small can of pineapple pieces is a nice alternative to the raisins, if you're so inclined.
This recipe is a great way to use up bits of leftover veggies. I've "riced" small pieces of cabbage with the cauliflower and cooked them together, and added chopped peppers, broccoli, zucchini and eggplant to the cooked veggies with great results. Make it your own!
Recipe by Eat Like a Yogi at https://eatlikeayogi.com/curried-cauliflower-fried-rice/