This soup isn't actually cream of mushroom, because there's not a sniff of dairy in it. But if I called it cashews and mushroom soup that would sound weird and gross, plus it tastes just like traditional cream of mushroom soup—only better!—so that's what we're going with.
Not only is this soup rich and satisfying, but it's super easy. Like, ridiculously easy. Not even Campbell's Cream of Mushroom in a can is easier to make than this delicious treasure.
Just like with all of my recipes, I encourage you to experiment. If you don't have leeks, just use an onion or garlic scapes. Fresh out of chervil? Use chives on their own or try adding the green stems on top of a fennel bulb. Use whatever seasonal mushroom you find—for the recipe that is pictured I used half shiitake and half crimini, but morels, lobster, oyster and maitake mushrooms would all be just as tasty. You can't make a mistake or do it wrong, so get creative and enjoy the process!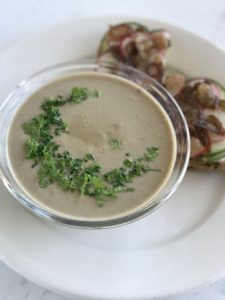 Print
Cream of mushroom soup
Yield 8 cups
Ingredients
2 T grapeseed oil
1 lb. fresh mushrooms
3 medium leeks
2 cloves garlic
4 cups veggie broth
1 cup water
¼ cup chopped fresh chervil
10-15 whole chives
1 cup raw, unsalted cashews
1 T sea salt
Freshly ground black pepper, to taste
Instructions
Soak the cashews in warm water.
In a food processor, chop the mushrooms until they look like coarse crumbs and set aside.
Then process the leeks (whites and just a bit of green) until they are evenly chopped into bite-sized pieces.
Heat the oil over medium heat in a large soup pot and add the mushrooms, leeks, and half the salt. Cook uncovered for 10-15 minutes, stirring often.
When the leeks are tender and the mushrooms are flavorful and soft, add the broth, water, and remaining salt. Cook until heated through evenly, 3-5 minutes.
Transfer the vegetables and broth to a blender. Mince the garlic and add it with the drained cashews, herbs and pepper, if desired.
Blend well until very smooth; add more salt and pepper as desired. 
Garnish with chervil or chives.