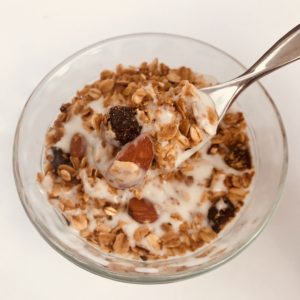 Cherry almond granola
Yield 11 cups
Ingredients
8 c gluten free oats
1 ½ c raw almonds
½ c hemp seeds (optional)
⅔ c coconut oil (refined is ideal)
1 c agave nectar
½ tsp vanilla extract
½ tsp almond extract
1 tsp sea salt
1 ½ c dried cherries
Instructions
Preheat the oven to 325°.
Pour the oats, almonds, hemp seeds and salt into a very large mixing bowl.
Melt the coconut oil until it has completely liquified.
Measure the agave, then add the vanilla and almond extracts and whisk them both into the agave until they are well incorporated.
Pour the coconut and agave mixture over the oats. Gently stir to combine for three minutes.
Spread the granola mixture evenly over a large sheet pan (or two of them, if it seems crowded).
Bake for 40-45 minutes, stirring every ten minutes to ensure even browning.
The mixture is done when all of the oats are golden brown (and your kitchen smells like doughnuts!).
Pour the granola back into the mixing bowl and gentle stir in the dried cherries.
Allow to cool completely before putting into storage containers.
Notes
If you are baking your granola in two sheet pans instead of one, keep in mind that it will cook faster.
The salt can easily be eliminated or reduced from this recipe in case of dietary restrictions. I like the way it brings out the varied flavors so was fairly generous with it here.
Since this recipe makes such a large batch, I like to put it into containers and freeze it. Super handy when you need a hostess gift or want to style out a friend with some deliciously solid nutrition.
Recipe by Eat Like a Yogi at https://eatlikeayogi.com/cherry-almond-granola/