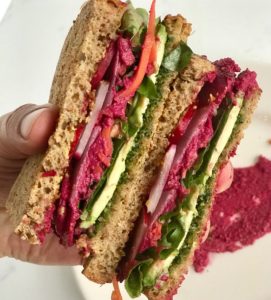 Tahini beet spread
Yield 2 cups
Ingredients
3 medium beets, peeled, ends removed
1 tsp lemon zest
1 large lemon, juiced
1 clove garlic
½ cup tahini
½ cup cashews or cashew pieces, unsalted
1 tsp harissa powder (or 1 T prepared harissa)
½ tsp salt
Instructions
Add all of the ingredients to a high-speed blender or food processor.
Pulse several times to chop the beets.
Blend on low, gradually increasing the speed as the ingredients begin to merge and pull down evenly.
If the mixture is too thick, add a bit of water, 1 tablespoon at a time.
Store in an airtight container for up to seven days.
Notes
How to serve:
Spread on sandwiches
Dip vegetables or chips
Stir into cooked pasta
Add a dollop to garnish any dinner entree, such as a stuffed pepper or risotto.
Recipe by Eat Like a Yogi at http://eatlikeayogi.com/tahini-beet-spread/