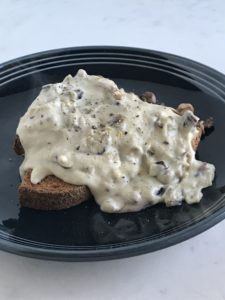 Mushroom gravy
Yield 4 cups
Ingredients
1 ½ cups cashews, unsalted
3 c water
1 T cornstarch
2 cloves garlic
2 T nutritional yeast
1 ½ T onion powder
½ tsp sea salt
½ tsp black pepper
1 T grapeseed oil
3 cups mushrooms, cleaned and chopped
1 T tamari or nama shoyu
1 T chopped sage
1 tsp chopped thyme
1 tsp chopped rosemary
Instructions
On high speed in a blender, mix the cashews and water until very well incorporated.
Add the cornstarch, garlic, nutritional yeast, onion powder, salt, and pepper and blend on high for another 15-20 seconds. The mixture should be fairly thin but coat your finger.
Set the gravy aside for a moment.
Heat the oil over medium heat and add the chopped mushrooms.
Cook for a minute or two, then add the Worcestershire sauce.
Sauté the mushrooms for 3-5 minutes, until they are soft and the liquid is absorbed.
Turn the heat down to medium low and pour the gravy mixture over the mushrooms.
Add the herbs and gently combine.
Cook for 5-7 minutes, stirring often. Do not let the mixture boil.
Adjust the seasonings as desired and serve over mashed potatoes or biscuits.
Recipe by Eat Like a Yogi at http://eatlikeayogi.com/mushroom-gravy/