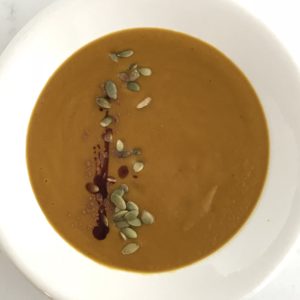 Get well soon carrot soup
Yield 4-6 servings
Ingredients
2 T coconut oil
1 onion, chopped
1 ½ lbs carrots, peeled and chopped, ends removed
1 T freshly grated turmeric (approx. 1 ½")
1 T freshly grated ginger (approx. 1 ½")
3 cloves garlic, minced
1 tsp sea salt
1 tsp cinnamon
½ tsp freshly ground black pepper
¼ — ½ tsp cayenne
4 cups vegetable broth
2 cups water
Instructions
In a large soup pot, melt the coconut oil over medium heat.
Add the onions and sauté five minutes.
Add the carrots and all of the seasonings—turmeric, ginger, garlic, cinnamon, cayenne, salt, and pepper.
Stir well to combine and cook another five minutes, covered.
Add the broth and water. Cover and bring to a simmer for 20 minutes.
Test to make sure the carrots are soft. Blend the soup—in batches if necessary—until all of the ingredients are well incorporated and soup is very smooth.
Notes
For a nice garnish try pumpkin seeds, a drizzle of olive oil, cashew sour cream, or fruit compote.
Recipe by Eat Like a Yogi at http://eatlikeayogi.com/carrot-soup/