Did you ever wonder how in the world people figured out how to eat artichokes? Basically the only part we eat (the heart) is hidden between the stem and the spiky leaves…not nearly as inviting to pick and eat as, say, an apple.
But artichokes offer a marvelous reward for the effort it takes to eat them. Their flavor is unlike anything else and they leave a sweet taste in your mouth that is totally magical (it's science, actually, but whatever).
Lucky for us, not only did people figure out that artichokes are edible, but they also figured out how to harvest and process them efficiently, so now we can buy a whole jar of the ready-to-eat little heart centers for around $5. Bingo!
Since becoming veganish, I am always on the lookout for ingredients that replicate the richness, flavors and textures of meat and dairy, which is how I came up with this pasta dish—a perfect option for a transitional season like spring. The substantial weight of the pasta and beans combines with the light sauce and bright flavors to create a dish that is special enough to serve to company and filling enough to please herbivores and omnivores, alike. Double bingo!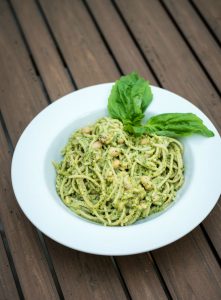 Print
Artichoke Pesto Pasta
Yield 4 servings
Ingredients
16 oz. brown rice pasta
15 oz. can navy beans, drained
¼ cup olive oil
6.5 oz. jar artichoke hearts, drained
5 oz. fresh basil leaves
½ cup pine nuts, toasted lightly and divided evenly
one lemon, zested and juiced
1-2 T nutritional yeast
1 clove garlic
1 ½ tsp. salt
½ tsp. ground black pepper
Truffle oil (optional)
Instructions
Set the water on the stovetop to boil in a one gallon pot. 
If you haven't already, toast the pine nuts in a small saucepan over low-medium heat. Keep a close eye on them as they burn easily (and quickly!). Basically you just want them to become lightly browned and fragrant.
While the pine nuts get nice and toasty, zest the lemon and then juice it (it's really hard to zest citrus after you squeeze it). Set the zest and a quarter cup of the pine nuts to the side.
Combine the rest of the pine nuts and lemon juice in the food processor with the olive oil, artichoke hearts, basil, nutritional yeast, garlic, salt and pepper. Process until well blended and smooth, adding more olive oil if needed, one teaspoon at a time, until the pesto becomes uniform in texture.
When the water boils, add the dry noodles, taking care to stir them well so they don't stick together. Cook for 15 minutes or until the noodles are al dente—soft but not mushy. Remove a quarter cup of the pasta water and add it to the pesto in the food processor. (NOTE: This is an important step and it's easy to forget!)
Drain and rinse the pasta with cold water to prevent it from continuing to cook. Return it to the pot.
Process the pesto and water for 10-15 seconds and pour it over the pasta. Add the white beans and remaining quarter cup of pine nuts and mix gently but well.
Transfer to a serving bowl or individual pasta bowls and garnish with the lemon zest and truffle oil, if you like.
Notes
Use a large pot to boil the pasta—this helps keep things from sticking.
Salting the water with a couple tablespoons of sea salt will reduce the boiling temperature and improve the flavor of the pasta.
Stir in the beans somewhat gently to ensure they don't lose their shape and become mushy.