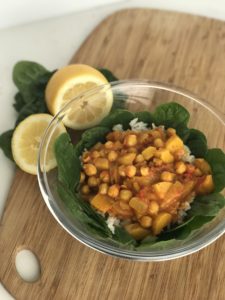 Veggie Chickpea Curry
Yield 4-6 servings
Ingredients
2 T coconut oil
1 medium onion, diced
1½  T curry powder 
2 tsp. salt
1 yellow or orange bell pepper, chopped
½ lb. new potatoes, cubed
1 T freshly grated turmeric
1 T freshly grated ginger
1-2 cloves fresh garlic, minced
½ tsp freshly ground black pepper
¼ tsp. cayenne
5 oz can crushed fire roasted tomatoes
2 cups cooked chickpeas
15 oz. can coconut milk (light or regular)
6 handfuls raw spinach
¼ c. chopped salted cashews or peanuts (opt.)
¼ c. chopped cilantro (opt.)
4-5 c. cooked basmati rice (opt.)
Instructions
In a large sauté pan or dutch oven, heat the oil over medium heat and add the onions, curry powder, and half of the salt. Cook five minutes or until the onions begin to look translucent.
Add the peppers and potatoes and the remaining salt, stirring well to coat all of the vegetables with the salt and curry spices.
Reduce heat to medium low and cook the vegetables, covered, for 10 minutes, stirring occasionally. If they begin to stick, add a few tablespoons of water.
When the potatoes are soft, add the remaining spices: turmeric, ginger, garlic, black pepper, and cayenne, along with the tomatoes and chickpeas. Stir well and bring to a simmer.
Turn the heat to low and add the coconut milk. Stir well to combine. Cover and let sit over low heat for a few minutes.  Taste the curry and add more salt if needed.
Serve the curry over a bed of spinach (and/or plain basmati rice). Garnish with chopped cashews or peanuts and cilantro.
Notes
In the picture here I used a premixed yellow curry powder, but any kind will do. 
Once you add the coconut milk, do not let the mixture boil, or you will end up with a gloppy, sticky, inedible mess. Ew. 
Recipe by Eat Like a Yogi at http://eatlikeayogi.com/2424-2/